Known as "The Flower of the Caribbean", Martinique has a unique ambiance that reflects its diverse cultural background. As a Department of France, the inhabitants enjoy EU citizenship but speak primarily a local Creole. The topography of Martinique is also diverse, ranging from mountainous terrain in the north to a flatter southern area that also has a drier climate. In addition to beautiful beaches, great sailing and diving, there are also other outdoor sports that take advantage of the lush vegetation and hilly terrain of the north.
Strong Points:
Choice of several towns or areas to live in
Luxury goods from France always available
No restrictions on the purchase of real estate
Ideal for:
People seeking a choice of water sports and nature-related activities
Sailing and diving enthusiasts
Interesting Facts:
Martinique belongs to both the EU and the Euro Zone
About 25% of the population lives in the capital, Fort de France
Le Marin has the best mooring and also hosts a festive biennial celebration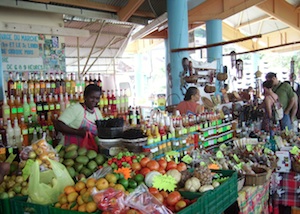 General Information
Government: Martinique is an overseas region of France.
Size: 436 sq mi (1,128 km2)
Population: In 2013 there were 386,486 inhabitants
Language: French is the official language. Creole is also spoken.
Geography & Topography: The north of the island is mountainous and experiences heavy rainfall. There are also several volcanic areas. The south end of the island is drier, flatter and more suited for tourism. There are several beautiful beaches in the south.
Climate: The climate is tropical moderated by trade winds. The average high temperature is 82 F (28 C) in January and 86 F (30 C) in July.
Economy: Tourism is the most important sector. As Martinique imports most products, it must rely on France for economic support. Even so, the island enjoys a relatively high standard of living.
Currency: Euro.
Activities and Sports
Martinique is internationally known for its water sports. Diving, sailing, surfing and kite surfing are just an example of what activities are available. Also, the mountainous region is ideal for walking and hiking.
---
ADVERTISEMENT




---
Shopping
As a French Department, you can expect to find many of the luxury goods that are available in France. There are also shops and markets in the towns. Fort-de-France has one of the Caribbean's most vibrant open markets for local fruits, vegetables and spices.
Residency and Visas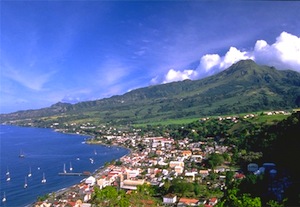 Tourists from the US, Canada and the EU can enter Martinique with a passport and stay for up to 90 days. Citizens of other countries may require a tourist visa.
The requirements for obtaining a long stay visa in Martinique are similar to those in effect for France. The visa must be applied for at the French consulate in the current country of residence. In addition to general documents, applicants must provide proof of sufficient funds for the stay in Martinique or proof of income from a pension or retirement plan.
Real Estate
There are no restrictions on foreigners buying property in Martinique.
Taxes
Martinique has income, capital gains and property tax.
Cost of Living
Most expats who retire in Martinique find the cost of living to be somewhat higher than in their home country. This is mainly due to the fact that most goods are imported.
Medical Facilities
The University Hospital Center has state-of-the-art equipment for many specializations. It is equipped with a re-compression chamber. There are also private clinics.
Accessibility and Transportation
Air travel: The Martinique Aimé Césaire International Airport receives flights from Europe, the USA, and the Caribbean.
Roads: There are freeways around Fort-de-France and well-maintained roads throughout the island.
Public transport: There is bus service available, both inter-city and urban. Shared taxis or taxicos can also be found at Pointe Simon.
Ferries: Martinique has ferry services to Guadeloupe, Dominica and St. Lucia. There are also ferry services connecting Fort-de-France and Pointe du Bout.
Maps
Book your accommodation and your plane tickets at the best price and go discover the different places in Martinique. Enjoy life, get informed about the price of apartments or houses. Book your hotel in Fort-de-France which is the county town of the French department situated in the Caribbean, but also in Le Diamant, Saint-Anne or Les Trois Ilets. 
---
CHECK LATEST PRICES ON ACCOMMODATION & FLIGHT TICKET
---